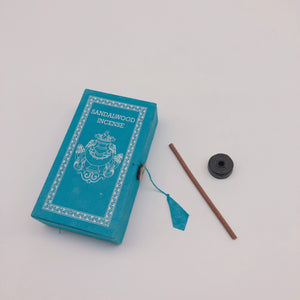 Sandalwood - Cleansing, Focus
Burning incense can enhance your mood, it's a lifestyle.
This product is original and handmade in Nepal with love. This incense is prepared according to the Buddhist traditional method.
Natural herbs, plants, leaves, and barks are blended to create this incense.
Each box comes with 40 x 4inch sticks of incense and a small round holder.
The incense is non-toxic and non -addictive, and pet-friendly.
Each stick burns approximately 30 minutes
Main Ingredients: Sandalwood, Ruk-Kesha, Himalayan Cedar, Holy basil, Cardamon, Jasmine, Nutmeg & other herbs.
Note: Warm, Woody